About Us - Who We Are And What We Do
Set Point Tennis Organization (SPTO) is the premiere regional youth tennis and mentorship program providing excellence in developing tennis skills and life-long lessons in building character and leadership abilities. We serve youth ages 6 to 18 of all abilities and backgrounds.
Michael Murphy is a graduate of Alvernia University with a Bachelor's Degree in Criminal Justice cum laude.  Michael Murphy is graduate of Saint Joseph University with a Master's of Science Degree in Administration of Justice (Police Executive) magna cum laude, and has completed one semester in the Widener University Law School summa cum laude.  Michael is a certified Arise Lifeskill Trainer and Instructor.  Michael is a Aggression Replacement Training instructor.  Michael is a certified USPTA and USPTR certified tennis teaching professional with 20 years experience coaching players of all levels.
Set Point Tennis is a registered 501(c)(3) non-profit, charitable organization and is eligible to receive tax-deductible** contributions.
Our Goals
Simply stated, our goal is not just to teach kids how to hit a ball. We work with at-risk youth to help them set educational goals, identify career opportunities, and with their overall life-skill development. Through the introduction of peer mentors and respected community leaders, we strive to strengthen the community by positively impacting the lives of our youth.
Community leaders, officials and dignitarites who have spoken at Set Point Tennis events include:
John Adams - Berks County District Attorney
Judy Schwank - State Senator
Richard A. Ehst - President and COO of Customers Bank
Dr. Lex O. McMillan, PHD - President of Albright College
Ellen Horan - President and CEO of the Greater Reading Chamber of Commerce
Jodi Royer - Reading Police Department
Todd Yeager - Reading Fire Marshall
Daniel Emkey, Esq - Attorney in Reading and Member of our Board of Directors
Dr. Gregory Emkey, MD - Internal Medicine Physician in Wyomissing
Dr. Douglas W. White, DDS - Dentist in Reading
Gretchen Keith - Recruiter for Gage Personnel
Videos of presentations by several speakers are on the Speakers page of this website.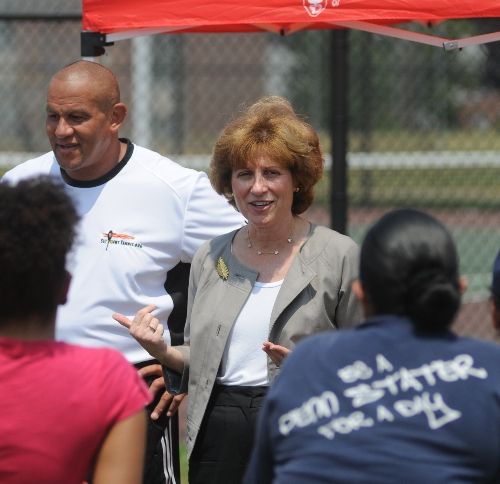 Pennsylvania State Senator Judy Schwank